Age Match Review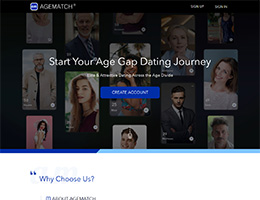 AgeMatch is a website dedicated to helping develop relationships between older men dating younger women, and older women dating younger men. It claims that when it comes to love - age really is just a number. Now AgeMatch has been online for over 15 years, and it has accumulated nearly one million users. Most of their members are younger girls and older rich men. So we also define it as a sugar daddy website and put it in 11th place due to its huge user base.
Price
You can sign up at AgeMatch.com for free. You become a standard member once you fill your detailed profile and upload a photograph. You do not pay anything for attaining a standard membership but have to shell out a little amount to have complete access to the website by upgrading the account to gold membership.
6 months membership costs $95.95 ($15.95 per month) and saves 60%.
3 months membership costs $59.95 ($19.95 per month) and saves 50%.
1 month membership costs $29.95 ($1 per day) and saves 25%.
You can make the payment through PayPal, Check Card or Credit Card for any of the above memberships. AgeMatch.com has an auto renewal facility for one-month membership package. You can turn off the billing to avoid automatic payment for the monthly subscription.
AgeMatch.com also lets you win a free gold membership by suggesting quality advices, writing articles or press releases, recommending AgeMatch.com to partner with similar sites or sharing tips with the other members of the community.
Basic Membership
The standard members, who have signed up for free, attain basic membership. The best feature that AgeMatch.com offers is you can have a free membership for lifetime. You are not restricted to use your non-paid account for some limited duration. You can upload up to 26 photographs to your profile, whereas the rest of the websites grant free members a space of only 2 or 3 snaps.
With free membership, you can be a part of the online community by posting questions or replying with comments to the views presented by other members. In addition, AgeMatch.com lets you send free winks to the members whose profiles interest you and wish them with greeting cards on their birthdays.
Premium Membership
Along with the basic membership features you enjoy, AgeMatch.com gives you extra benefits if you paid just a little amount for gold membership. The paid membership helps you in setting emails and the wink filter. You can avoid any of the older men or younger women from contacting you through any means. If you upgrade your account to premium membership, you can initiate chats to verified, new and recommended gold members instead of waiting for people to connect with you.
As you have made special efforts for being a verified paid member of the age gap dating site, you get exceptional attention from members as well as the customer service unit. In addition, the premium members always get a chance to stay at the top when members view profiles of potential matches.
Features
AgeMatch.com is a specially crafted website for narrowing the age gap between older men and younger ladies, and vice versa. With the help of such a website, there is a hope for older singles to date younger potential partners. The website owns a mobile application that can be used once you register through the computer. The additional feature lets you search members who are looking for a healthy relationship with people like you. You can search your potential partners with their gender, age, state, area, desired relationship or star sign.
You will benefit from every attribute after you sign up with an email ID, upload clear details to let other members know you properly and fax an ID copy (military ID, passport, state ID card or driver's license) to the customer care unit for verification.
Editor's Verdict
You cannot find many websites that have quality, matured singles who are open to the idea of dating men or women considerably older or younger than their ages. AgeMatch.com has served the dating world for over 15 years now with its specially designed website and effective customer base. Most of the members come from the US. Hence, if you reside in any country, other than the US, you may find a little difficult to search for a match from your area. You will experience an impeccable journey while searching members for romantic endeavors, love, compassion and healthy relationship at AgeMatch.com.