Whats Your Price Review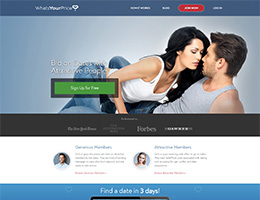 WhatsYourPrice is a website that focuses on people who tend to find a rewarding date. This site provides a completely different perspective to the dating niche. It is more like a bidding game where members bid to go on their first date by paying a specific amount. So it's a good place for beautiful sugar babies to sell their first dates to generous sugar daddies. Plus, the signing up process is quite straightforward, once you are in, you will gain access to a number of profiles and pick the best date.
Price
The users can sign up for free at WhatsYourPrice.com and meet tons of members who want to get paid for their first dates. If you want to update your free profile, you can purchase few credits and use them for dating new people.
$50 offers 100 credits
$150 offers 450 credits
$250 offers 1000 credits
An additional $50 for being a verified member
You can make use of MoneyGram, Credit Card, Money Order or any alternate method for purchasing credits of WhatsYourPrice.com.
Bid to Date
Have you ever thought that going on a date can pay you? If no, then sign up at WhatsYourPrice.com and start looking for people who can be your potential partners. Once you like any of the profiles, you can offer the person a bid that you are ready to pay as the first date price. The member can take your offer or reject it. He or she can even send a reply to you with her or his bid. If you are okay with the amount she or he is specifying, you can go ahead and plan for a great date.
Generous or Attractive
Signing up at WhatsYourPrice.com is easier than on other websites. While filling the details, you have to mention whether you want to be a part of Generous Men or Women list or Attractive Men or Women list. 'Generous' category needs to pay for the date whereas the 'Attractive' category can send offers to the 'Generous' members and ask them to pay for their first date. The generous member can take up the offer or negotiate the terms. The deal is clinched only after he accepts the offer and takes the attractive woman out. The attractive women get paid only at their first dates. If you find any spark in your partner, you can start dating or look forward for a healthy relationship. However, you cannot make an offer to the same generous man for a second date.
Verify your Account
Unlike rest of the websites where the verification badge is provided with no extra membership fee, WhatsYourPrice.com charges a little if you want to authenticate your account. A simple thumb rule which is followed by every sugar daddy dating website is that most of the people drag their attention or are interested in certified people and profiles with photographs. Hence, if you are paying a membership fee, why not pay a little amount and authenticate your account to receive more winks and date proposals?
Pros
The unique selling point of WhatsYourPrice.com is that there are no time-wasting features such as sending winks or messaging to the person, waiting for their reply; initiating the chat, creating the atmosphere to talk and then asking for a date. As the website does the talking for you, you mention your price, the woman takes the offer and you both are off for a great evening. Such a straight feature keeps you away from fake profiles. WhatsYourPrice.com also helps you locate people living in your vicinity.
Cons
WhatsYourPrice.com has received mixed reviews. Few of the users say that this website is worth their time and money; however, the rest of the crowd calls it as a prostitution site since you are paid for the date which is scheduled on the basis of money and not feelings.
Editor's Verdict
The website of WhatsYourPrice.com is neat and easy to understand. It is one of the best places for people who are new to the sugar daddy and sugar baby dating world. You will come across many beautiful, bold and attractive women trying to get paid for spending their evening dating well-settled, rich and successful men.
However, the website is a polished way to ask for an escort as the dates are monetary-based instead of meeting a person whose profile interests you for an emotional relationship.
Click Here to Visit WhatsYourPrice.com » or « Back to Homepage