How to Have a Perfect Sugar Baby Profile on Sugar Daddy Site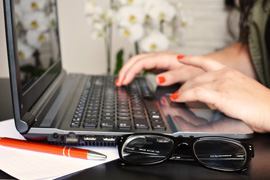 You are aware of the fact that there are many more sugar babies than sugar daddies on every sugar daddy dating site, so how to stand out from the crowd is so key! Now I'd like to share some very useful techniques with you, so that you will get a sugar daddy in record time.
Wear red in your profile picture. Modern psychology tells us that men are more attracted to women who wear red clothes. In order to get a potential sugar daddy's attention fast, you should wear red in your profile photo. This will make you stand out from the crowd quickly when sugar daddies are browsing hundreds of potential sugar babies' profiles.
Wear a tight dress in your profile picture. You probably already know that men fall into different categories – some men like to see women's legs; some men like to see women's bottoms; some men like to see women's breasts. Therefore, the best way to maximize your opportunity is to wear a tight dress which accentuates your shapely figure perfectly. So when a sugar daddy clicks on your profile, he can see your beautiful body clearly.
Show your standards (don't tell them; show them!) Many sugar daddies think they don't need to respect women anymore, since they have money and power as the value that they are able to provide. Consequently, it's of paramount importance for you to display your high value by showing them your standards. You can directly list some of your terms and conditions in your profile. For instance, you can include "I'm only available to see you on Friday and Sunday" in your profile. In this way, you are not telling them "My standards are XYZ". Instead, you are showing them you have standards because you are not always available. This makes your standards more powerful.
Avoid statements like "I want finer things in life" or "I need some help". These statements are used by millions of boring sugar babies. Unfortunately, nobody likes desperation. You should focus on what you are able to offer by talking about your taste, mindset and vision in a vivid and compelling way, since he already knows he can help you financially. You need to understand that a high quality sugar daddy has high quality taste as well; therefore, he is looking for a sugar baby whose entire package is attractive, including her looks, intelligence and personality. If your entire package is alluring, he will give you finer things in life because he knows why you are on a sugar daddy dating site. Also, you can always tell him what exactly you look for when you meet him in person. So you don't need to be that specific in your profile.