Established Men Review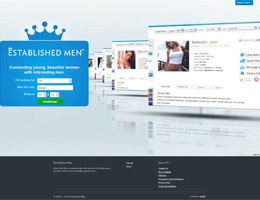 EstablishedMen is focusing on connecting young, beautiful women with successful, wealthy and interesting men. If you are a single mature man attracted to younger women, or you are a single youthful women drawn to men with much older age but financially prosperous, this is the place where you can set on your love journey in a non-judgmental atmosphere.
The Basics
EstablishedMen has adopted a simplified format that is similar to a lot of other dating sites. Your dashboard is on top of the screen. Basic personal info like username, age, location, height, hair and eye color etc. are all included and neatly labeled. The site is very simple to navigate through with easy and obvious displays like Whether or Not Have Photos / Private Photos, Online or Not, Available for Chat or Not, New Member, Available for A Date Tonight and so on. All those info and options enable you to narrow down your search and make your final decision on who you would like to go further.
Almost 4: 1 Ratio
The site is 100% Free for any women, while for men, it costs. Men can create profiles, browse and send three messages only, and that's as far as the basic membership can take them. If they want to communicate in other ways, highlight their profiles with a special badge, and check newly registered members to make the very first contact, they will have to provide their credit card information and choose to upgrade. Being valued as 'Perfect Princesses', younger women are welcome to join the site, and granted full access to all site features. So, on the site, women outnumber men by the ratio of approximately 4:1.
Voice Messaging System
Paid membership comes with a fantastic feature -- voice messaging system, which allows users to leave a voice message without giving out any personal information. Just call the provided toll free number and leave a voice message for your desired matches, so that they can literally hear your likings themselves. Most importantly, there is no risk of harming personal privacy. Since your phone number will never be given out, and all those sent voice messages can never be downloaded, either.
The Cost
Three options are available for premium membership:
$79 for 1 month (includes 100 credits)
$49 per month for 3 months (includes 300 credits)
$25 per month for 12 months (includes 3000 credits)
Worth Or Not
Among all Wealthy Dating and Sugar Dating sites, Established Men is one of a kind. It encourages women to join and use its service totally for free, and thus to attract all successful and interesting man who set no bounds for love to follow in those women's footsteps. The sites says they have millions of singles, but as a matter of fact, many of the profiles seem to be inactive or maybe even fake (since it's free to post a profile, and all features are open to women, some will just create a fake female account to tour the site). So, be careful whenever you are vetting a match you have met on the site.
Click Here to Visit EstablishedMen.com » or « Back to Homepage