Marry Me Sugar Daddy Review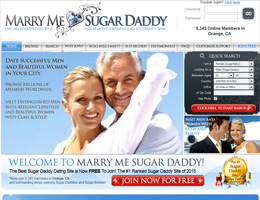 A place fbuttonor wealthy men and beautiful women, MarryMeSugarDaddy.com pleases you with the best quality sugar daddies and sugar babies across the globe. You can join this site for casual dating or a pleasing relationship similar to the other websites; however, you can expect more. The profiles of wealthy men on MarryMeSugarDaddy.com hits the bull's eye as many sugar babies will want to get in touch with rich men who live their lives without compromises.
Price
MarryMeSugarDaddy.com does not have any fee for the standard members. They are allowed to use a limited number of features. However, the gold membership costs the seekers of sugar daddies or sugar babies a premium yet affordable fee.
The 3-day trial is absolutely free
Membership for one month costs you $29.95 ($1 per day)
Membership for three months cost you $74.85 ($24.95 per month)
Membership for six months cost you $119.70 ($19.95 per month)
MarryMeSugarDaddy.com accepts only credit cards. Hence, you need to own a credit card if you want to upgrade your registered account from standard to premium.
The Initial Set-up
The first thing that is expected from every user signing up at MarryMeSugarDaddy.com is to fill the basic information along with a few details about your personality traits and expectations from your potential match. After setting up your profile, you can start searching for people on the basis of their ethnicity, marital status, age, city and area. Your profile at MarryMeSugarDaddy.com helps you start the conversation through emails, web-chat or instant messenger with any of the members whose profiles look interesting immediately after you sign up.
Safety and Privacy
MarryMeSugarDaddy.com provides a number of options to keep the profile and photographs hidden or private from the filtered members. The code feature helps you keep your profile a secret and not being made public. The site lets you search people from confidential clubs, unlike the rest of the websites.
The customer care unit of MarryMeSugarDaddy.com makes your life easier on the site as you can call them anytime throughout the day and they assist you for your any problem. In addition to the customer care, the website provides multiple options to keep your uploaded information confidential. For instance, you can keep your photographs private or share it with only a few members and simultaneously, make your profile public to let anybody see you and wink to show interest. MarryMeSugarDaddy.com has customized the privacy options. Therefore, you can make changes accordingly and have a complete control over your profile.
The Pros
After signing up at MarryMeSugarDaddy.com, the sugar daddies are asked to mention the range of allowances they can afford to pay their sugar babies. Similarly, the sugar babies need to specify the amount they want their sugar daddies to pay them every month. The free membership allows members to reply to the emails, but do not let them initiate the chat as that feature is offered only to the members who have an upgraded account.
One of the best features that MarryMeSugarDaddy.com provides to each of its members is the 'matching' attribute where the members, while browsing the profiles of different members, can check which of the personality traits are in common.
The Cons
Although the website, MarryMeSugarDaddy.com, has many features that can grab your attention, it looks to be a scam. There are not many good quality profiles on the site and most of them seem illegitimate. The search option also does not serve its purpose.
Editor's Verdict
MarryMeSugarDaddy.com is a website of wealthy men and beautiful women seeking a casual fling or more than just a healthy relationship. You can register yourself free. It provides you a 3 day trial with premium membership. This gives you a fair idea whether the website, its search options or the members can help you find your soul mate. The chances of meeting your potential match are more here as you can find a pool of members signing up on a daily basis. However, the members are allowed to cancel their accounts any time after contacting the customer care unit.
In addition, the sugar babies mention their expected allowance from their partners and the sugar daddies provide the amount they can afford on their profiles of MarryMeSugarDaddy.com. The security and privacy options are customizable. The business tycoons or the bold models are from varied fields. Hence, you can find a diverse range of people over the website longing for sugar dating.
Click Here to Visit MarryMeSugarDaddy.com » or « Back to Homepage