Miss Travel Review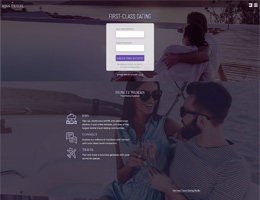 Founded by Brandon Wade, MissTravel is the one and only travel dating site across the whole internet. It claims to be the dominant service provider that connects people with the same luxury travelling interests. The site provides a platform, on one hand, for rich and successful men to find younger and beautiful companions on their luxury travels, and on the other, for women to find free trips. To some extent, people take it as another sugar daddy site. And despite that, the site sees continuous grow in numbers with people from all around the world signing up to find a travel partner.
Sign-up Process
Registering an account with MissTravel is fast and easy. To start with, you need a valid email address that you may receive a verification email later on; and a unique username that will be shown on your profile. Also, you are advised to specify your relationship status, and what type of relationship you are pursuing - Dating, Friendship, Travel partner, Discreet affair or Casual dating etc. At last, locate yourself and describe yourself a little bit, then you are all set!
How to make contact
To make contact on Miss Travel, you need to take advantage of all its site features and functions. That being said, not all site features are open to standard male users. Though for female users, features like reading and sending messages are automatically available, male users still need to subscribe premium membership to get full access. Free contact tools include Basic & Advanced search, Favorite List, Create & request other to join a trip, and Check who's viewed or favorited you.
User Base
The majority population of Miss Travel is consisted of two group of people: Middle-aged, well-established men and younger, energetic women. And most of its visitors come from the US, the UK and Belgium.
Profile Quality
The profile page is simple and informative. User's personal info, photos, "A little bit about myself" and "Why I want to travel" etc., are all displayed here. During browsing, you can easily find out others' interests, if they have any upcoming trips and so forth.
There's no limit on uploading photos, and all photos can be set visible to all or only to selected people.
Special Features
Unlike other sites, Miss Travel only has a few features. Among them, "Create A Trip" is a unique one. It allows you to post a future trip so that other members can search for and ask to join it. When creating the trip, you shall enter a location, travelling duration date (can also be flexible), give it a little description, and catchy tags. And most importantly, don't forget to mention who's paying.
The created trip can be canceled if you are no longer interested in going, or changed to a different trip, or you have already found someone.
Subscription Costs
On MissTravel, the subscription plan is designed exclusively for men. There are 3 options to choose from - 30 days with total cost of $59.99, 90 days with total cost of $164.97, and 180 days with total cost of $299.94.
Final Verdict
Miss Travel is generally a reliable online dating site with comparatively new concept. It may fall into the category of sugar daddy dating, but it does open a portal to another dimension. If you are a frequent traveller, or desire a romantic free trip, this is the exact place for you to get started. Since its popularity is on the rise, your chance of finding a travelling buddy on the site is pretty high.