Rich Meet Beautiful Review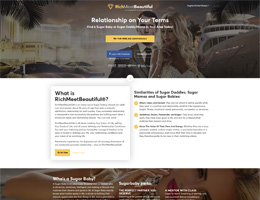 In recent years, sugar daddy dating is no longer a new concept. However, a newly launched sugar daddy website in 2017, RichMeetBeautiful, has caught our attention. It has overtaken most of competitors in Google ranking, and operates globally with many languages' versions. The site fills the needs of rich men and women with busy lifestyle and long-gone sexy seductive relationships, and beautiful yet ambitious, goal-driven young ladies and toy boys with eagerness to earn some pocket money and life lifestyles matching their dreams.
To Sign Up
Like any other popular, modern dating sites, RicheMeetBeautiful.com is well designed and easy to navigate. The signing up process is quick and simple. To start with, you need to choose a sugar role to play among 'Sugar Baby', 'Sugar Daddy' and 'Sugar Momma'. One thing needs to mention is that the site, maybe for the first time, categorizes attractive men as sugar babies, which does make a lot of sense. After role choosing, you may be required to specify your net worth or annual salary figures if you are trying to sign up as a Sugar Daddy or Sugar Momma; or a life style, if sign up as a Sugar Baby, ranging from Minimal $1,000 monthly all the way up to as High as more than $10,000 monthly. Also, you can choose Negotiable if you don't have a set budget on your mind right now.
To finish your profile during signing up, you are asked to add personal info like height, weight, body type, looks, best feature, piercing(s) and tattoo(s) etc., or you can skip the process and get back later to flesh it out after making up your mind to give it a shot after browsing and checking the site content.
Top Features
The site also supports Facebook account login, which will surely facilitate your registration. When it comes to profile photo, the site lays more emphasis on users' privacy protection, and allows users to upload photos without showing their faces, furthermore, it provides Anonymizer tools to blur or cover your uploaded photos with faces. Alternatively, you can upload some private photos and lock them, while only give Private Keys to those that you feel comfortable with.
All important site features are listed neatly on left navigation part, through which, you can conveniently upload photos, do searches, check messages, visits, received and sent winks and gifts etc. You may also want to glance over all 'Featured users' to see if there's anyone that catches your attention. Search tools includes basic search by distance from nearby to whole country, and advance search with more filters like physical appearance, life habits, personality, sex drive, whether having a secret 'love nest' and the type of relationship you are seeking.
Costs
It's totally free to view other members' profiles, and add them to your favorite list if you are interested, and send winks to notify them. On one hand, for both female and male sugar babies, initiate sending messages costs nothing, while sending virtual gifts like a token of rose or kiss etc. will cost you credits. On the other hand, for all sugar daddies and sugar mommas, a Premium membership needs to be purchased, with single month membership fee at €39.99, 3 months' package at €89.97, 6 months' package at €119.94 and 12 months' package at €179.88, which obviously, indicates the more months you subscribe at one time, the lower each month cost it will get.
Editor's Verdict
Overall, as a brand new name and a rising star in the sugar daddy dating field, RichMeetBeautiful has a strong point like wide coverage, which on the plus side, means if you are a true wealthy sugar daddy or sugar momma with the money or reasons to travel to other parts of the world regularly, then your choices or chances of getting a date will be boosted! In the meanwhile, it also has its weak points like insufficient user base, and lacking of more fancy features. However, since the site is on the path of fast growing, we have every reason to believe it will get better soon and it is definitely worth your try anytime.
Click Here to Visit RichMeetBeautiful.com » or « Back to Homepage