Seeking Arrangement Review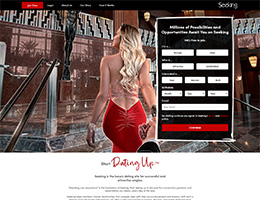 SeekingArrangement is one of the best luxury dating websites and highly thought by the mainstream media. It makes the cut for people seeking love and compassion from their luxury dates, and allows people to immediately define what they need and want in a relationship. With over 40 million successful men and attractive women, you will find the unique "Luxury Arrangements" here. Now SA has started using its new domain name: Seeking.com, which is simple and direct.
Price
SeekingArrangement offers standard, premium and diamond memberships to its members. The standard membership that you receive after signing up with a detailed profile does not cost you anything. However, to enjoy full access to the website, SeekingArrangement has provided a premium membership, with a certain amount as fee.
For Successful Members
30 days membership fee: $109.99
90 days membership fee: $289.99
For Attractive Members
30 days membership fee: $19.99
90 days membership fee: $45.99
You can benefit from the free membership as long as the website serves you with the best successful members. You need to fill the profile perfectly and verify the uploaded photograph to make the best use of the standard account. You will come across people with a variety of top class professions such as investors, doctors, bankers, lawyers, business owners, entrepreneurs and professors.
The Design
Unlike the rest of the websites that are trying to stuff everything on their websites, SeekingArrangement is an easy to use and the simplest site of all. If you are not a regular member of the community, design may not matter to you; however, clear navigations make life simpler to people staying long on the website seeking arrangements.
One of the easiest conveniences of the site is the income range. While browsing through the profiles, you can see the mentioned incomes on every successful member's profile. This helps you in filtering the members who would not be able to afford your allowance range.
The Profile
As everybody on SeekingArrangement knows, the real reason for signing up is you will find most of the members clear about their interests and expectations from their potential matches. The photographs uploaded are mesmerizing, as you will see successful members either in suits or posing at lavish destinations.
Experienced Successful Members
Most of the successful members on SeekingArrangement have at least been with one attractive member in their lives. Hence, you will find many experienced and serious people here who are clear about their expectations from their attractive members. Also the successful members have a planned structure for the arrangements they can offer to their attractive members in terms of how long the relationship will last or how many times a week the partners will meet. If you are a attractive member, you will have a clear knowledge as the successful members are experienced and hence, you do not have to spend time waiting for the call or meet.
Seeking Arrangements
As the successful members are wealthy, successful busy men, you may have to schedule your time according to their needs. Most of the daddies may ask you to meet where they are traveling for work. However, you can seek arrangements at such times and ask the successful member to pay for the trip. In addition, men are lavish in spending; hence, you can pick the place for the date or meeting and he will make the arrangements.
Successful members on SeekingArrangement are upfront in making deals and do not waste time on unnecessary clutter. Hence, you can spend time and propose your terms to him upfront. If he is okay with the arrangements you need, the rest is automatically taken care.
Editor's Verdict
Not many of the websites have members in variety and are experienced in luxury dating. You can use the site for free and check if upgrading your account is worth your money and time. The new members may get more winks and emails than the older profiles in the first couple of weeks, but do not forget to choose a match that suits you from the overwhelming response. There are hundreds of attractive members and successful members signing up at the website. You may have to be on your toes to keep your profile active and not wait for being contacted. If you find the website useful, upgrade your account and start contacting potential matches.
SeekingArrangements.com is also very popular with students in debt of education loan or wanting to build a brighter career ahead without making any investments.
Click Here to Visit SeekingArrangement.com » or « Back to Homepage