Sugar Sugar Review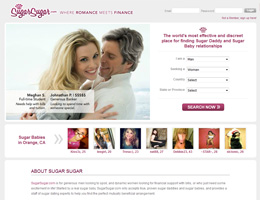 SugarSugar is for generous men who like spoiling women with a lavish lifestyle, and young women who love to be pampered with money, or some people who just need some excitement in life. This website accepts only verified sugar daddies and sugar babies. It provides a sugar expert who will guide you through the journey of being a sugar daddy or sugar baby. Launched by a real-life sugar baby, SugarSugar boasts ratio of women to men is almost 8 to 1, which means you will definitely find a lot of sugar babies here.
Price
You receive a free membership with 3 days' trial, where you can access the site of SugarSugar.com to search people who are looking for dating sugar babies and sugar daddies. Once you complete the free membership offer period, you are either requested to upgrade your account to a paid one or cancel the membership. The membership fees of premium accounts are divided into 3 sections.
Pay $49.95 to become a Silver member
Pay $79.95 to become a Gold member
Pay $99.95 to become a Platinum member
The website is free for sugar babies. However, the sugar daddies can be standard members or select any of the subscriptions to become premium members.
Features
Once you are a registered member of SugarSugar.com, you can keep a tab on the new profiles of people who join on a daily basis. You can check the last-logged-in-time of the person whose profile looks interesting to you. If he or she has a last month logged-in date, you cannot expect a quick reply to your messages. The website offers you blocked list and favorite list categories. These categories help you to sort profiles of members whom you feel are necessary or can be ignored. People in the blocked section would not be able to see any of your details or contact you for dating.
Sugar Shop
Sugar Shop is a fun and interesting way to stay online for a longer time on SugarSugar.com. Through various activities that help in keeping your profile active, you earn points in the Sugar Shop. The shop is available only to the members of the site. You can surprise any of the members you like, with gift cards or greetings with the points you earn.
Mobile App
SugarSugar.com is spreading its business through the mobile world. You can download the mobile application of the website and search for interesting singles in the world of sugar dating. The application is compatible with iPad, iPhone, Blackberry and Android devices. The design is unique in its own way as you can easily locate your sugar date through the mobile app. In addition, the GPS location tracker instantly tracks the location of any of the potential partners located in your nearby area.
The Online Community
The online community is updated regularly by the bloggers of SugarSugar.com. You will find new stories, new concepts, innovative tips and ideas while dating sugar daddy or sugar baby from the members. Sugar dating becomes an easy task when you have constant guidance from sugar experts or seek help from members who are experienced in this field. SugarSugar.com has both interesting bloggers who keep updating their questions with answers and views along with sugar experts who direct you on this amateur way. Plus, the website has a large membership base.
Pose, Click and Post
Unlike other sugar dating websites, SugarSugar.com does not restrict you to post a certain number of photographs. Hence, you can pose as many times as you want and post all the photographs that can enhance your profile. The paid members are allowed to view every photograph that the other members upload.
Editor's Verdict
The website has a clean design with easy user interface. The search option leads you to the exact profiles you are searching. The features make SugarSugar.com one of the simplest websites to use. It gives a relaxed approach to the amateurs as well as the experienced sugar daddies and sugar babies.
The website, with its unique attributes, is a discreet place where you can find the best sugar crowd across the world. Most of the registered sugar babies of SugarSugar.com are college students. They are looking for sugar daddies that can help them swerve their pressure off by paying tuition fees or finance them in exchange for love and compassion.